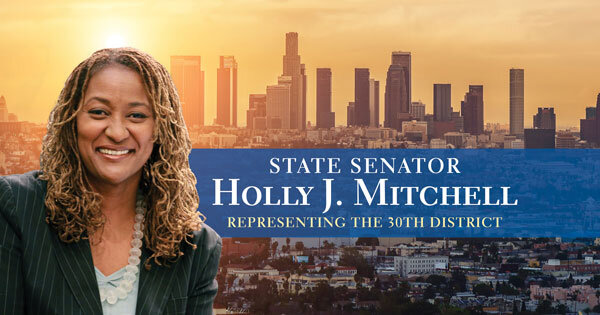 Sacramento, CA – Working Hero Action, a grassroots organization fighting to end poverty, today announced it has awarded California Senator Holly Mitchell (D-Los Angeles) with its first Working Hero Action Legislator of the Year Award. Working Hero Action was founded by progressive entrepreneur Joseph Sanberg to put the issue of poverty front and center in Federal, State and local policies and to endorse and fund candidates who have the courage to confront poverty through the Working Hero PAC.
"I'm proud to announce Senator Holly Mitchell as Working Hero Action's first Working Hero Action Legislator of the Year. Poverty is the most troubling issue of our time and Senator Mitchell exemplifies the courageous leadership we need to restore the fundamental promise that hard work is rewarded by financial security," said Sanberg. "As a state legislator and longtime advocate for children and families living in poverty, Mitchell has been relentless in her fight to ensure workers can not only rise above poverty but provide for their families. Fewer California children are hungry today because Holly Mitchell demanded California act to reduce poverty."

Notably, Mitchell, chair of the State Budget Committee, was instrumental in California's recent expansion of the Earned Income Tax Credit (EITC), which makes work pay better. First adopted in 2015, the "cash back" credit means more money in the pockets of working people and families. If you work and earn $22,330 a year or less, you get money back from the government based on how much you earned and your family size. The state budget passed by the legislature and signed by Governor Gavin Newsom this year more than doubles the economic benefit of the CalEITC to $1 billion. Under the new changes, parents with children under age six will get an additional $1,000 on top of the existing credit.

California's leadership and Sanberg's role in an innovative non-profit "CalEITC4Me" community organizing campaign this spring helped working Californians access $342 million of CalEITC dollars, on top of the overall $2 billion of federal EITC dollars these families were able to earn. The EITC is the most effective anti-poverty program on the books, and its impact promises to last generations.

CalEITC is one part of how California is responding to our shameful reality of the highest rate of poverty in America, but it is not enough. We need courage and conviction to confront poverty on a national scale, because no child should go to bed hungry in America. That's why Working Hero Action has challenged 2020 presidential candidates to show voters their plans to end poverty.